Murud Dapoli Beach
Located around 11 km from Dapoli, Murud Beach is famous for its scenic views and adventurous water sports so the place has to be on the list of places to visit during your Dapoli trip. This beach is a beautiful stretch of clear-blue Arabian sea and black sand. This vast beach is spread over 1.75 km and you can walk across such a wide area. The region is surrounded by huge rolling hills on three sides. The specialty of this beach is the huge palms and coconut trees on this beach which make the mind happy and calm the mind. Apart from this, one can indulge in water sports activities, capture the panoramic view of the sunset, laze in the sand and enjoy a leisurely walk on the beach.
Murud is a small town situated on the Konkan coast. The main attraction here is the long, scenic palm stretch of Murud Beach. Murud Beach is made up of very soft sand and is safe for swimming. The sunset on the beach is mesmerizing and completes the most picture-perfect moment in this destination. One can enjoy parasailing, banana boat ride and many thrilling water sports activities here. Here you can enjoy horse riding on the beach. Visiting this beach makes you feel very happy and energetic. This beach is 11 km from Dapoli, 12 km from Anjarle, 69 km from Chiplun.
There are many activities available at Murud beach like parasailing, dune buggy ride, camel ride, horse carriage and water scooter. If you are lucky, you also get to see some friendly dolphins here. Dolphin watching boats take tourists out to sea early in the morning to see dolphins. Many of the restaurants on the beach or at the resort where you are staying also serve delicious and traditionally prepared food. Near Murud Beach is an ancient Durga Devi temple, built in the 18th century. The wooden carvings of the temple are worth seeing. A large bell hangs on the left side of the entrance. It is said that Chimaji Appa, a great Maratha warrior, brought the bell from a church after winning the battle of Vasai. There is also a beautiful lake behind the temple with refreshing cold and sweet water. This beach is always crowded with people and is a destination full of activities.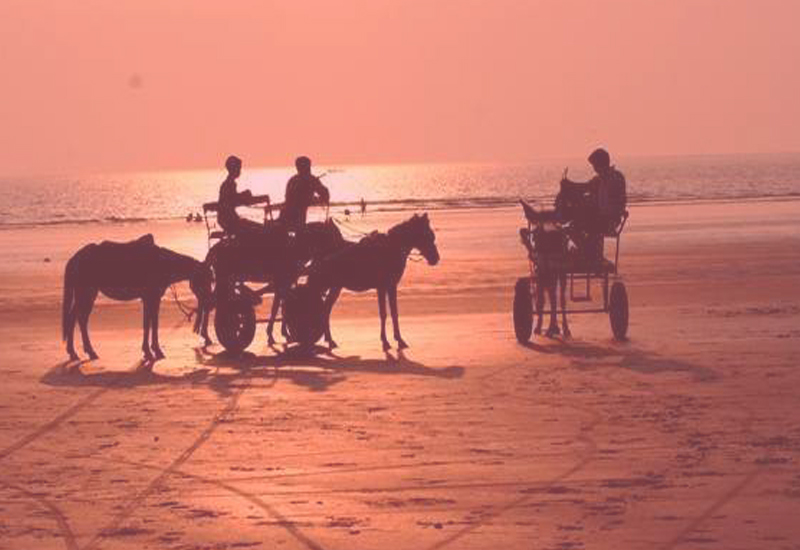 Murud Dapoli Beach Accommodation
Murud Dapoli Beach is the best choice to experience a trip with friends and family. A visit to this beach in Konkan region is a must to make your trip unforgettable. If you're looking for a great vacation experience with memories that will last a lifetime, you're in the right place. There are many great Murud Dapoli accommodation options nearby that will take care of your stay and delicious food. The hotels, resorts, homestays of this place arrange a comfortable stay for you in the perfect hotel in Konkan. It is convenient to visit all the beautiful places surrounded by scenic beauty and attractive tourist spots. The climate there is warm and the humidity is above average. However, cold ocean air cools the temperature. If you are looking for a peaceful "best beach in Dapoli" surely Murud Beach is the right choice.
For the ultimate comfort of your stay, Dapoli is an ultra-luxurious beach resort that offers visitors a sense of seclusion and privacy with its lavish rooms and private terraces. Our resort is right next to the beach, you can experience the beach directly from our resort. We ensure that your vacation will turn into a magical experience as you enjoy your stay at this resort surrounded by the sea. To make your stay experience truly unforgettable we also have a restaurant that will serve you all kinds of food.